Astro-Berlin 400mm f5.0 Fernbildlinse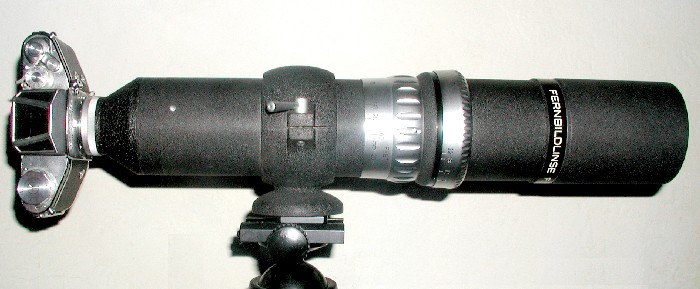 The Astro-Berlin lens pictured above, was obtained from a gentlemen in New Jersey. Most commonly found in mounts for motion picture cameras, a limited number were also manufactured in 35mm mounts. This particular lens, #52114, has the original Exakta mount and came in a fitted leather, felt-lined case.
It possses a rotating tripod mount, manual diaphragm with f/stops from f5 to f/22 using an f/stop scale of f/5, f/6.3, f/9, f/12, f/18 and f/22. It focuses from infinity down to 20 feet. What surprised me was the weight of the lens, not nearly as heavy as it looks.
© The material on this web site is copyrighted! You may download items of interest for personal use only. If you have a web page, you may hyperlink to my items.