Miscellaneous Exakta Accessories
Lens Shades (Sonnenblenden)
A large variety of lens shades are available for the lenses in Exakta Mount. Most lens manufacturers either included them with their lenses of sold them as accessory items. Most accessory manufacturers also have generic lens shades available in just about every configuration you can imagine.

Ihagee produced rectangular shades in several sizes for the most popular lenses that they distributed with their cameras. They are well-made, screw-in shades with an adjustment ring to lock the shade into the correct position once screwed onto the lens. They are finished in black crinkle and generally are engraved in white with "Ihagee" inscribed on one side and "Germany" on the other. Pentacon/Practica also produced similar shades with no names engraved.

Filters
There is a filter made for just about any effect that is required in photography. There are colored filters for black & white photography, color correction and compensating filters for color photography, special effects filters, polarization filters, soft-focus filters, etc. The list goes on and on. Among the best names in filters are the optical firms of B&W, Heliopan, Tiffen and Zeiss Jena. Filters can be had to fit just about every lens and they are manufactured in series and in millimeter sizes.

I personally tend to minimize filter use relying predominately on a polarizer and one or two color compensating warming filters as I shoot color slides almost exclusively. Occasionally, I use a Zeiss Softar too.
Body Caps
| | | |
| --- | --- | --- |
| Ihagee body caps are always in big demand. They are designed to protect the lens mount and camera mirror chamber whenever a lens is not fitted on the camera. The Ihagee cap is made of black plastic. It has a knurled edge and has the word "Ihagee" inscribed on the front over a pebbled field. Several variations exist. There are also similar caps without the word "Ihagee" inscribed, most likely made by another unknown manufacturer. | | |
Lens Adapter - (Varex to Real/Twin TL)
"East-West" Ring

One of the important adapter rings, sometimes called the "East to West" ring enables the mounting of Exakta Varex mount style lenses on the Exakta Twin-TL and Exakta REAL. This ring once mounted on an Exakta lens is a bit difficult to remove. They are somewhat difficult to find and rather flimsy in their construction.
Lens Mount Adapter - Pentacon 6 to Exakta Varex
In order to use lenses from the Pentacon 6, Praktisix or similar mount medium format cameras on the Exakta, lens mount adapters were manufactured by Carl Zeiss Jena in several different styles.

The specific adapter shown on the top right converts aperture automation from the internal Pentacon 6 style mounts (120mm and longer lenses) to the external Exakta stopdown.

The second "Zebra" version adapter can be used for all different focal length Pentacon Six and similar mount lenses.

The photo below shows a Carl Zeiss Jena 65mm f2.8 Auto Flektogon in a Pentacon to Exakta Auto mount.
Lens Mount Adapter - Night Exakta to Kine-Exakta
| | | | |
| --- | --- | --- | --- |
| In order to use the normal 8cm lenses from the Night Exakta on the later Kine-Exaktas, an adapter was manufactured by Ihagee. Rather uncommon, the adapter is displayed on the right with an 8cm f2.0 Carl Zeiss Jena Biotar Night Exakta lens. | | | |
Lens Mount Converters
Lens converters are available to fit just about any Exakta lens onto just about any other maker's camera. Depending on the design, a few of them provide automatic diaphragm coupling while most are strictly manual affairs. Some cameras with larger internal bayonet openings permit the Exakta lens to be focused to infinity while others only permit closer focusing distances.

I have seen lens converters for Exakta to Alpa, Canon, Miranda, M42 (Pentax/Edixa/Pentacon), Minolta, Olympus Pen, Nikon, Yashica Pentamatic, Leica, C-Mount, etc.

In the photos below, you will see some of the converters in my collection. These adapters, particularly the Alpa, Canon, Olympus Pen and Nikon, generally command high prices on the used market.
| | | | |
| --- | --- | --- | --- |
| Exakta to Alpa (Alpa Code EXABAG) | | Exakta to Miranda (Manual) | |
| | | | |
| --- | --- | --- | --- |
| Exakta to Miranda (Automatic) | | Exakta to Minolta | |
| | | | |
| --- | --- | --- | --- |
| Exakta to Yashica Pentamatic | | Exakta to Konica | |
| | | | |
| --- | --- | --- | --- |
| Exakta to Olympus Pen F | | Exakta to Canon FD | |
| | | |
| --- | --- | --- |
| | Nikon to Exakta & Exakta to Nikon | |
Lens Cases
The manufacturer, either as standard equipment, or as accessory items, generally provided lens cases. Over the years, lens cases were manufactured in hard leather with velvet interiors, in vinyl, or in the form of pouches with pull strings.

The early leather cases are something to marvel at. The quality of their leathers and fittings would be cost prohibitive in today's economy.

As beautiful as they are, however, long term storage of lenses in cases is a liability. There are toxins in the leather that can cause lenses to cloud or become prone to fungus.
Camera Straps
Over the years, camera straps have been the biggest enemy to the cosmetic appearance of cameras. Most of them employed stainless steel o-rings that were installed on the camera strap lugs. Some of them, including two that were sold by Exakta, (a chrome metal one and a leather one) included locking strap lugs that when installed on the camera almost immediately began to chew into the surrounding metal on the camera. Just for the record I am including a photo of these bad guys.

More recently strap manufacturers have started making straps that have protective leather pads that go between the camera and the o-ring. These are the straps of choice as far as I am concerned.

Camera Cases
Eveready Cases, or as I prefer to call them, "Never Ready" Cases, were available for just about every model Exakta ever made. The earlier ones were made of high quality leathers and were quite beautiful works of art. Later as leather costs began to rise, plastics started to find their way into the cases. Later Exakta cases are ugly black plastic affairs.

As noted in the lens case section above, long term storage of cameras in leather cases can be a liability.
Outfit Cases
| | | |
| --- | --- | --- |
| Outfit cases were made that carried the camera, several lenses and accessories. The two most desirable cases in this category were the Omnica and a special case (see photo), which I acquired years ago from Seymour's in NY City, made of light brown leather and fitted with a plush violet velvet interior. In mint condition, these cases are very difficult to find today. | | |
Exakta REAL Outfit Case
Finding an Exakta REAL is a challenge but an entire outfit with the original fitted case is quite difficult indeed. The outfit case is displayed closed and with it's contents, an Exakta Real with 3 Schneider lenses (28, 50 & 135), extension tubes and Hooded Finder (in a case).
Release Buttons (Faustknopf)
One of the most user-friendly Exakta accessories was the Large Shutter Release Button. Best used with manual or preset lenses, this little accessory threaded into the camera release button (or on the automatic lens) and provided a larger surface upon which to place your finger.

Ihagee and several other manufacturers distributed them.
Arresting Knob for 50mm Meyer Domiplan Lens (Feststellknopf für Auslöserwippe der Meyer Objective)
| | | |
| --- | --- | --- |
| In order to circumvent the automatic diaphragm on the 50mm f2.8 Meyer Auto Domiplan lens, Ihagee manufactured an Arresting Knob to screw into the lens shutter release arm cable release socket. This enabled the lens to be used in the stop down mode, manually. Quite uncommon!!! | | |
Coupling Pin for Using Automatic Exakta Varex Lenses on RTL 1000
| | | |
| --- | --- | --- |
| In order to use the External Automatic Diaphragm lenses on the Exakta RTL 1000, a special coupling pin was manufactured by Ihagee and other manufacturers. It screwed into the Cable Release Socket of the auxiliary shutter release on the RTL 1000. | | |
Bulb Flash Guns
Not only Ihagee, but many other manufacturers, sold capacitor flashguns. These flash bulb firing units came in just about every shape and size one can imagine. Size was generally dictated by the size of the flash bulbs the unit could handle. They were available with various reflectors - polished, matt, folding, etc. Ihagee produced several, two of which included a small plastic unit with a folding reflector and a large conventional unit, the Exakta Vakublitzeinrichtung, with a polished reflector.
The Ihagee Fan Flash (Blitzleuchte)

One of the most difficult Exakta items to locate is the small Ihagee Fan Flash, circa 1953. Featuring a removable folding reflector and a PC cord connector, the unit was easily attachable to the Exakta via a flash bracket or could be adapted to a shoe mount to mount atop the Ihagee Prism accessory shoe.
Vakublitzeinrichtung

The Ihagee Camera Company produced their own flash unit, called the Vakublitzeinrichtung in the early 1950's. It was a capacitor flash whose handle mounted below the Exakta camera. The case holds three batteries.

It had a removable polished reflector that could be rotated about 30 degrees and had the capacity to take varying sized flash bulbs. It has an ejector for removing the spent flashbulbs.

The Vacublitzeinrichtung also had the capability of connecting a second flash head (rare) via a connection cord. Quite bulky and cumbersome, they are most likely now used for display only as smaller units made them obsolete.
The Vakublitzeinrichtung Auxiliary Head

The auxiliary head had a 3/8" male thread on the bottom to facilitate mounting to a light stand. Seldom encountered, the auxiliary head is much more uncommon than the flash unit.
The Exakta Camera Company Flash Unit

Another of the more popular Exakta vintage bulb flash units was a capacitor flash distributed by the Exakta Camera Company of Bronxville, NY. The photo on the left shows the unit in its original yellow box with adapters for various size flashbulbs.

It is interesting to note that the flash bracket attaches to the flash using a locking clamp mechanism very similar to that used by Rollei for the Honeywell "Strobonar" electronic flash guns.
The electronic flash made the bulb flash gun virtually obsolete.
Exakta Electronic Flash
One of the more difficult to find Exakta items is the Exakta Electronic Flash distributed by the Exakta Camera Company. The unit consists of a flash unit, mounting bracket, external battery pack and cords.
Displayed below is the Exakta Electronic Flash, in pristine condition, along with its power pack and instruction booklet.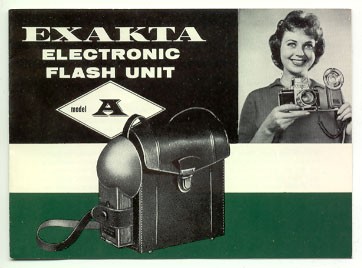 Vacublitz Plug to PC Adapter (Synchro-Kupplung)
| | | | |
| --- | --- | --- | --- |
| In order to use current flash equipment (with PC cord connections) on the earlier Exakta cameras with Vacublitz-style flash contacts, many after-market manufacturers made adapters which converted the vacublitz sockets on the camera to a PC cord connection. Several such adapters are displayed on the left. | | | |
RTL Flash Bracket
| | | |
| --- | --- | --- |
| None of the 3 different finders Ihagee produced for the Exakta RTL 1000 camera had an accessory shoe onto which a small flash or other item could be fit. Instead, they devised and manufactured an accessory Hot Shoe that was mounted under the rewind knob of the RTL. A small 3 ¼" long PC to PC Socket cable was included to plug into the cameras flash synch terminal. Very simple!!! | | |
Beam Splitters (for Stereo Photography)
In conjunction with the Ihagee Stereflex finders (See Finders Pages), two beam splitter devices were needed for stereo photography.

The large base prism was needed for photography from 2 meters to Infinity. The small base prism was needed for photography from 0.15 meters to 2 meters.

Mounts were available with 35.5 x 0.5, 40.5 x 0.5 and 49 x 0.75 threads. These splitters could only be utilized with 50mm lenses.
A complete assembled Stereflex outfit is displayed in the accompanying photo. The small beam splitter is at its side.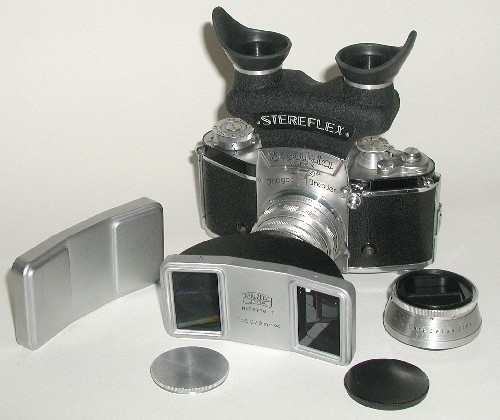 Hand Held Exposure Meters
The Ihagee Cell Prism meter, the Schneider/Isco LM Meters as well as the Harwix/Travemat meters are marginal for measuring exposures at best. While I have several of each in my collection that are reasonably accurate, I tend to rely most often on a handheld meter.

My three meters of choice are the Minolta Spotmeter M, the Minolta Flashmeter V and the fabulous, regrettably discontinued, Sekonic Studio Auto II meter displayed on the right. All three are drop-dead accurate and can read extremely low levels of light.
Exakta & Exa Lapel Pins
| | | |
| --- | --- | --- |
| And of course, no Exakta collection would be complete without an Exakta or Exa Lapel Pin to show that you are an Exaktaholic!!! | | |
Exakta Postage Stamp
The East German (Deutsche Demokratische Republik) postal authorities issued this 10 pfennig stamp and one other stamp (a 20 pfennig green) in celebration of the Leipzig Fair. This specific event was the Leipziger Herbstmesse (Autumn Fair) held in 1955. The blue 10 pfennig stamp illustrates the Exakta Varex VX along side of a binocular microscope. The small script underneath the illustration reads: "Messehalle II/III".

The 10 pf stamp is currently valued at £0.50 in the current Stanley Gibbons Stamp Catalog. Its SG catalog Number is E222. Camera dealers/collectors having them, will naturally ask higher prices.